Enjoy this great Beyond the Veil review of the second novel in teh Sacred Band of Stepsons Beyond Trilogy.
sacredbander
http://www.blackgate.com/2014/03/16/caught-between-rebels-and-the-empires-blackest-magic-beyond-the-veil-the-revised-and-expanded-authors-cut-by-janet-morris/
Sunday, March 16th, 2014 | Posted by Joe Bonadonna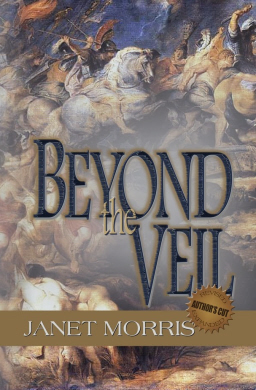 I continue with my review of the 5-star, Author's Cut editions of Janet Morris' classic of Homeric Heroic Fantasy, the Beyond Sanctuary Trilogy, of which Beyond the Veil is the second book. Once again, she does not disappoint in this stirring novel of political and religious intrigue, dark magic, gods and men, witches and mages, and the price of love and war.
This is a pivotal book in the trilogy, where foreshadow and story threads begin to weave in and out to form a tapestry, telling a tale of friends who become foes, enemies who become allies, and what Fate lies in store for certain demigods and mortals.
Now, after the battle to win Wizardwall that took place in…
View original post 1,278 more words